This morning we're continuing our look inside the 2019 product brochure – this time, focussing on our food-to-go sandwich concepts.
You'll find everything you need to know about our range of tasty lunchtime eats on pages 8-9.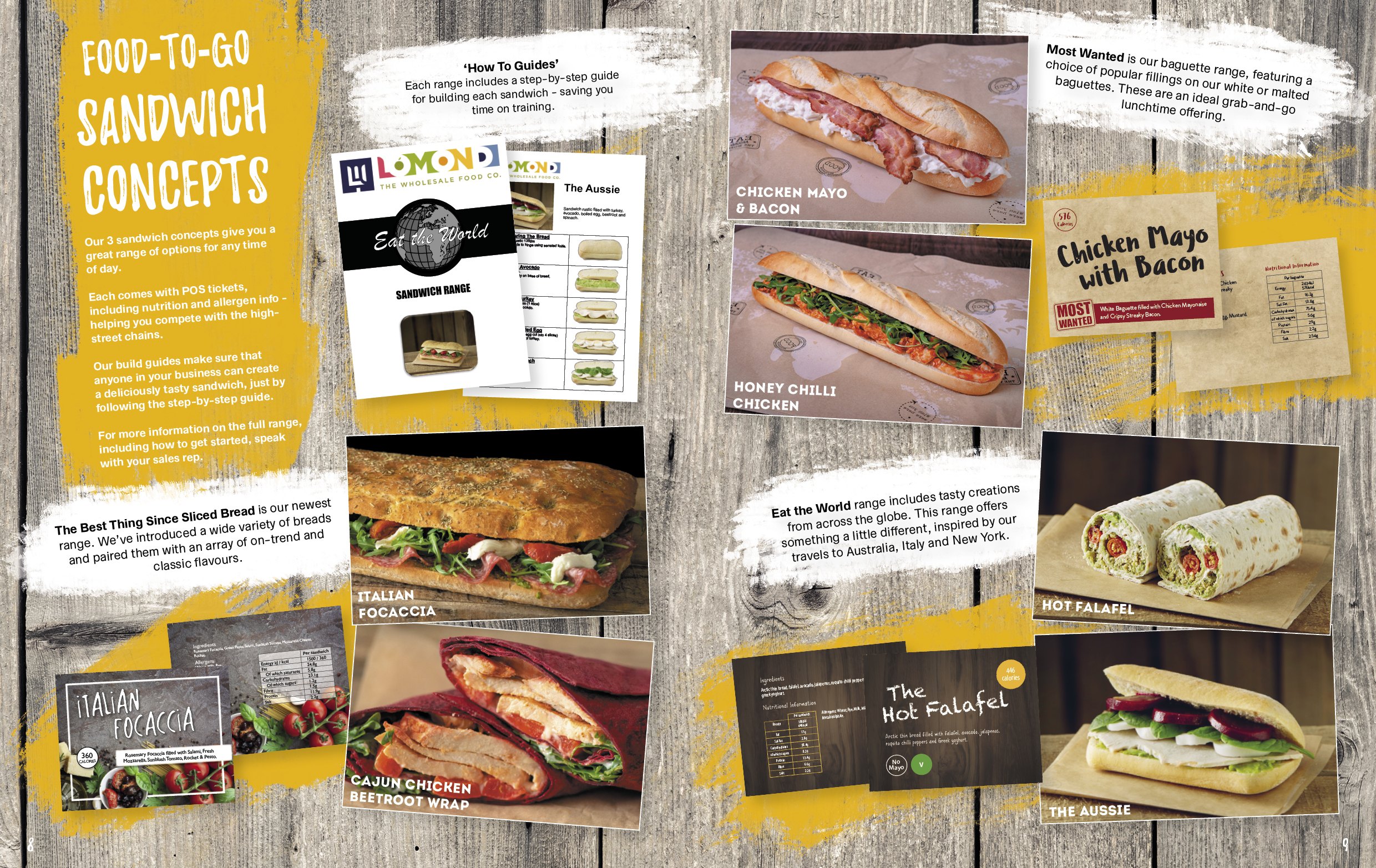 We have 3 ranges of sandwich concepts to choose from, each aimed at a different consumer, helping you take advantage of every opportunity. These are all designed to be made in advance, then kept in the fridge so your customers can grab and go – helping you manage staffing, time and reducing the queues during the lunchtime rush! All of our ranges come with their own POS, detailing calorie and nutritional information, as well as build guides – these are step-by-step guides, with pictures, meaning anyone of your staff can pick up the manual and create perfect results every time.
The Most Wanted range includes classic flavours, such as Tuna Mayo, Chicken Mayo & Bacon and BBQ Pulled Pork, served on either a malted wheat baguette or a white baguette. Our Most Wanted range is also a part of the offering for our food-to-go all-in-one solution, giving you a complete set up to start offering food to go in your business.
Eat the World features flavours from across the globe: our team travelled the world to bring you the tastiest eats and breads from the USA, Australia and beyond. Flavours include the vegetarian Hot Falafel – spicy roquito peppers with falafel, yoghurt, jalapeños and avocado; The Aussie – turkey, avocado, beetroot and spinach and the PPP – BBQ pulled pork on our pretzel bun, with coleslaw and pickles.
The Best Thing Since Sliced Bread showcases some of our more inventive breads, such as our focaccia sheet, filled with salami, mozzarella, pesto, sun blush tomatoes and rocket; our beetroot wrap, filled with cajun chicken and peppers – guaranteed to be an eye-catcher!
If you want to find out more about any of our sandwich ranges, Nom Stop, or any of our other food to go products – you can speak with your sales rep, or call the office on 0141 353 6777.