It's almost here…time to cuddle up to your one-and-only and treat them right!
You can now order our lovely Heart-Shaped Empire Biscuits, just in time for Valentine's day.
Heart-shaped biscuits with a cutout, sandwiched with fruity jam and finished with pink and white fondant icing. These are ideal for a coffee shop special, served along with a cuppa or a nice end to a meal alongside a coffee.
Priced at £9.60 for a box of 12 – just 80p a biscuit – these are a great way to bring some lovin' to your customers.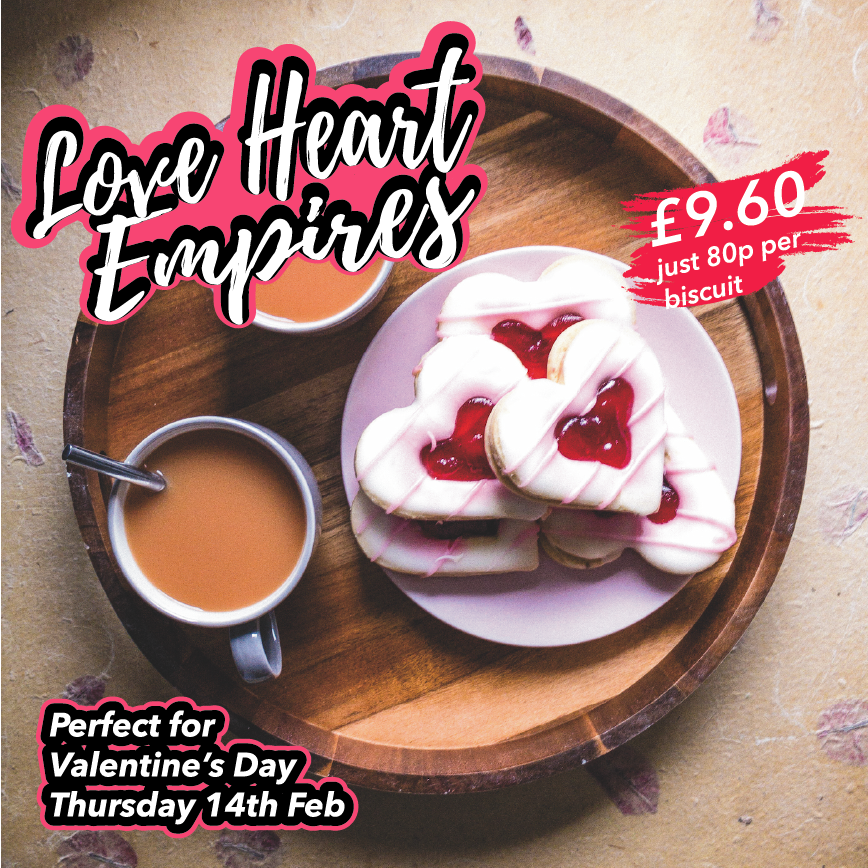 While we're on the subject of Cake, how about a showcase day all about our sweet treats? We're hosting a showcase day at our Bakery in Thornliebank on March 13th. Our usual showcase days cover everything food-to-go as well as a tour of our Glasgow depot, but we wanted our customers to get the full Cake experience this time around.
As well as a tour of our bakery and a Cake-based presentation you'll also get to try as many of our Cakes as you can from our display. So whether you're looking at loaf cakes for your cafe, traybakes for your snack van, or show-stopping triple-layer cocktail cakes for your coffee shop – we've got you covered.
To order our love heart empires, or find out more about our showcase days, speak to our team on 0141 353 6777 or contact your sales rep.